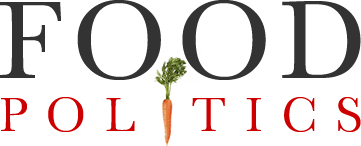 by Marion Nestle
Food legislation (maybe)
Legislators in the new administration are working on food laws.  Here is a quick sample:
Calorie labeling: it looks like we have bipartisan support for national menu labeling.  If passed, calories will have to be disclosed on menu boards of fast food and vending machine chains throughout the country – and not just in New York City and the few states that have passed their own laws.   Lots of health organizations are backing this proposal.
Food safety: the House just passed its version of a bill that will overhaul some aspects of the present food safety system.  This bill still has a long way to go but is a hopeful sign that Congress might actually do something to fix the FDA.  What the bill does not do is deal with fixing the system.  It exempts meat, poultry, and eggs under USDA jurisdiction.
Produce safety: The new head of the FDA, Margaret Hamburg, says her agency is going to put special efforts into ensuring the safety of high-risk produce. To do that, she will need Congress to pass laws that, among other things, give the FDA the authority to order recalls and a lot more money to carry out its work.
Organics: The U.S. and Canada have agreed to coordinate their organic standards, so foods certified organic in Canada can be sold here and vice versa.  Let's hope the most stringent standards prevail.
These are (somewhat) hopeful signs.  Let's hope Congress manages to keep at this and tries to get it right.