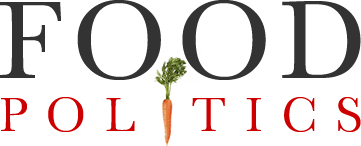 by Marion Nestle
Food (un)safety update: E. coli 0145 in Arizona lettuce and more
It's deja vu all over again with the recent recall of bagged romaine lettuce contaminated with a toxic form of E. coli.  The lettuce came from a central wash-and-bag facility that sent products out to food service companies in several states making about 30 people sick so far.
The one new development is the strain of E. coli: 0145, not O157:H7.  Despite decades of worry that other STECs (Shiga Toxin-producing strains of E. coli) cause serious human illness, state health departments don't routinely test for 0145.  Clearly, they need to.
The FDA and CDC are both working on this case.
FoodSafetyNews.com has a complete report on the situation to date.  It examines the possible source of 0145 in a three-part series:
Meanwhile, the USDA issued compliance guidelines for reducing Salmonella and Campylobacter in poultry.  That's nice, but what about STECs?
And the GAO has just issued a new report, FDA Could Strengthen Oversight of Imported Food by Improving Enforcement and Seeking Additional Authorities (don't you love those titles?).  The report focuses on weaknesses in FDA's oversight of food imports.
FoodQualityNews.com has a short but tough summary:
There are about 189,000 registered foreign sites where food is made for sale in the United States, according to the report. Of those, the FDA inspected just 153 in 2008…Meanwhile, the amount of food imported into the United States is increasing, and now accounts for 15 percent of the total food supply, including 60 percent of fresh fruits and vegetables and 80 percent of seafood.
What more evidence do we need for the urgency of passing food safety legislation?  Reminder: the Senate has been sitting on a food safety bill since the House passed it last August.  Apparently, this Congress this food safety can wait.  Tell that to the people who got sick from eating bagged romaine lettuce.