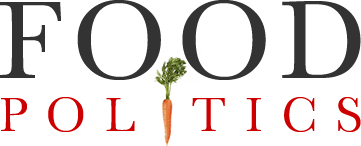 by Marion Nestle
IOM wants just as rigorous science for food claims as for drugs
Buried in an Institute of Medicine report released today on, of all things, "biomarkers and surrogate endpoints in chronic disease" are some truly astonishing recommendations:
Rec. 3: The FDA should use the same degree of scientific rigor for evaluation of biomarkers across regulatory areas, whether they're proposed for use in the arenas of drugs, medical devices, biologics, or foods and dietary supplements.

Rec. 4: The FDA should take into account a nutrient's or food's source as well as any modifying effects of the food or supplement that serves as the delivery vehicle and the dietary patterns associated with consumption of the nutrient or food when reviewing health-related label claims and the safety of food and supplements.
Translation: The FDA should require the same level of scientific substantiation for health claims as for pharmaceutical drugs, and not assume that a supplement has the same health effect as a food or diet.
As the press release states:
The FDA should apply the same rigor to evaluating the science behind claims of foods' and nutritional supplements' health benefits as it devotes to assessing medication and medical technology approvals…There are no scientific grounds for using different standards of evidence when evaluating the health benefits of food ingredients and drugs given that both can have significant impacts on people's well-being.
The committee set out to recommend scientific criteria for evaluating the types of scientific data that companies use to convince the FDA to allow health and safety claims.  Food claims got tossed into the mix. 
The impact of these recommendations could be considerable.  The IOM is saying that health claims need to have rigorous science to back them up, not least because the kinds of claims now used to market foods do not come close to meeting those criteria.
Here's what the Wall Street Journal has to say about this report (it quotes me).
How right they are, as witnessed by the health claims on chocolate-flavored, sugar-sweetened Enfagrow.