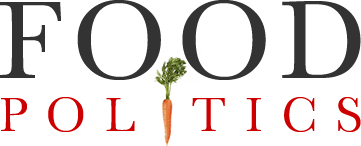 by Marion Nestle
White House says 1.5 trillion calories to be cut from food supply?
I'm in California but fortunately was up early enough to participate in an unexpected White House conference call.  This was a preview of the press conference held this afternoon to announce food company pledges to reduce the calories in their products by 1.5 trillion by 2015.  As the press release explains, the 16 food company members of the  Healthy Weight Commitment Foundation (HWCF)
are pledging to take actions aimed at reducing 1.5 trillion product calories by the end of 2015. As an interim step to this goal, HWCF will seek to reduce calories by 1 trillion in 2012.
The energy gap?  That's the 1.5 trillion excess calories that Americans consume each year on average.  This number assumes that the American population consumes an excess of 100 calories a day (the kids' gap is less).  This number comes from some unexplained manipulation of 100 calories x 365 days per year x 300 million Americans.
How will food companies do this?
Healthy Weight Commitment Foundation manufacturing companies will pursue their calorie reduction goals by growing and introducing lower-calorie options; changing product recipes where possible to lower the calorie content of current products; or reducing portion sizes of existing single-serve products. These changes will help Americans reduce their calorie intake, improve their overall nutrition and close the energy gap.
How will we know they will actually do this?
To assess the impact of the pledge, the Robert Wood Johnson Foundation (RWJF) will support a rigorous, independent evaluation of how the Healthy Weight Commitment Foundation's efforts to reduce calories in the marketplace affect calories consumed by children and adolescents. RWJF will publicly report its findings.
What are we to make of all this?  Is this a great step forward or a crass food industry publicity stunt?*  History suggests the latter possibility.  Food companies have gotten great press from announcing changes to their products without doing anything, and every promise helps stave off regulation.
On the other hand, the RWJF evaluation sounds plenty serious, and top-notch people are involved in it.  If the companies fail to do as promised, this will be evident and evidence for the need for regulation.
As I explained to Jane Black of the Washington Post, the White House efforts to tackle childhood obesity have been consistent and relentless.  What the White House is doing is holding food companies to the fire for making kids fat. That's awkward for the companies.  They don't see it as good for business.  Hence the agreement to change.
What the White House has not been able to get are similar pledges about marketing to kids, but that – and front-of-package labeling – are clearly the next targets.
So let's give Michelle Obama a big hand for taking this on.  I will be watching for the evaluation with great interest although I hate the idea that we have to wait until 2015 to see the results.
*Added comment: see Michele Simon's considerably less optimistic post on this.  As she puts it, "who needs policy when you've got promises?"
Update May 18: FoodSafetyNews covered the event.  The Atlantic's political editor is skeptical and notes the absence of a
Calorie Measuring Authority, and the science of counting calories is not as exact as one might think. The Grocery Manufacturers Association, which helped to put together today's event, spent $1 million in the first quarter of 2010 on lobbying, much of it for the maintenance of corn subsidies.