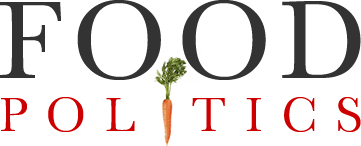 by Marion Nestle
The latest in marketing genius: "Baby" Carrots
Eat them like junk food! That's the slogan of the new, over-the-top advertising campaign for "baby" carrots. I put "baby" in quotes because they aren't.
I hate to be the one to break this to you but baby carrots are plain old ordinary adult carrots, cut and scraped into baby-size pieces.
Mind you, I'm a nutritionist and we do love carrots. And the CDC says only about one-quarter of Americans eat three servings of vegetables a day.
But $25 million to sell them on the basis of sex (I'm not kidding) or, violence (sigh)?
Well, at least they aren't marketing these to kids.  For that, we have to go back a few years to the Sponge Bob "baby" carrots of 2006 or so (see below).  I haven't seen those packages lately.  Guess that idea didn't work.
Will this new campaign work any better
?
[Thanks to Michael Bulger for sending the links.]