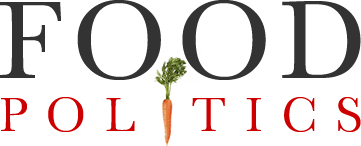 by Marion Nestle
Fruit and vegetable update
This must be the season for reports on eating fruit and vegetables (see November 11 post).  Now, the National Fruit & Vegetable Alliance (NFVA), a public-private partnership to promote greater intake of these foods, has issued a Report Card. Here's the Executive Summary and the Full Report Card.
No surprise, but average fruit and vegetable consumption is still way below recommended levels.
Only 6% of individuals reach the target for vegetables
Only 8% achieve the target for fruit
Although food away from home accounts for a third of calorie intake, it accounts for only 11% of fruit and vegetable intake
Here are some of the Report Card grades:
An "A" goes to the WIC Fruit and Vegetable Vouchers program, which recently broadened the program to allow fruits and vegetables that previously were excluded.
A "C" goes to school food and restaurant menus, which are making only slight progress.
An"F" goes to the healthy food advertising category, since ads for healthier foods are decreasing.
USA Today has a story on this report, which also identifies the most popular of these foods.  In case you were wondering, the top four fruits are Apples,  Bananas,  Strawberries, and Grapes.  The top four vegetables, according to this survey, are Broccoli, Corn, Green beans, and Carrots (I'm not sure I believe this list).
And finally, New York City reports that its Food Stamp users received more than $200,000 in fresh produce coupons for farmers markets in 2010.  That, at least, sounds like genuine progress.