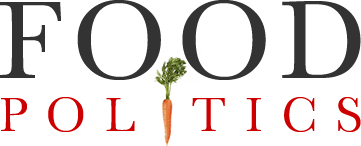 by Marion Nestle
Senate passes food safety bill, 73 to 25
In case you missed it (and how could you?), the FDA Food Safety Modernization Act passed the Senate yesterday by a huge majority.  Thanks to Beth Bainbridge for sending me this link to a map of how the votes went—a graphic, interactive illustration of partisan politics in action.
If you would like to know what the bill really says as opposed to the mythology, you can read a short Summary , or take a look at the entire bill.  And here's FoodSafetyNews on some of those details.
The next steps: (1) reconciliation with the House version passed a year ago July, and (2) submission of the joint version to President Obama for signature.  This has to be done before this session of Congress expires in just a few weeks.
By all reports, reconciliation will not be so easy.  FoodSafetyNews explains all the things that can derail the bill between now and then, and the list is long and weird (who ever heard of "blue-slipping," for example?).
Some folks are happy about the Senate action, but some most definitely are not.  FoodSafetyNews summarizes the reactions, as does the New York Times account.
Time is short.  The stakes are high.  Keep fingers crossed.