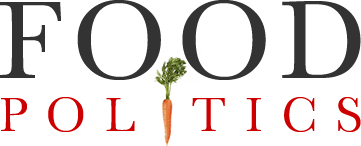 by Marion Nestle
What should doctors tell patients about nutrition?
The November issue of San Francisco Medicine is devoted to Food for Thought: Practical Nutrition for Physicians (the entire issue is online).
It's got a great collection of short articles, if I may say so myself.  A throwback to the days when I taught nutrition at the University of California San Francisco School of Medicine, my contribution, the first one, is called "Doctor's Orders: What Should Doctors Tell Patients About Nutrition?"
I am a realist. I am well aware of the fact of time constraints, and my list of suggestions for what doctors should tell patients about diet and health is necessarily short. Fortunately, it doesn't take long to tell patients that what they eat matters to their health. It takes only a minute to explain that healthy eating simply means attending to food variety, minimal processing, and moderation.
This collection is worth a read.  For example:
David Wallinga: An Unhealthy Food System: Suggestions for Physician Advocacy
Brian Raymond: Taking Action: A Health Sector Guide to Food System and Agricultural Policy
Kelly Brownell: How the Food Industry Drives Us to Eat
Narsai David: Eating Sensibly: Using Common Sense and Moderation
Shannon Udovic-Constant, MD, and Steve Heilig: Health Policy Perspective: Sugar Politics Versus Health
Take a look and use!