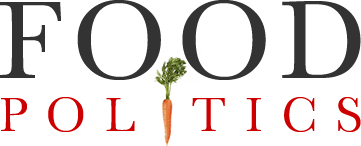 by Marion Nestle
Worldwatch issues report on nourishing the planet
The Worldwatch Institute, a group that conducts research on climate & energy, food & agriculture, and the green economy, has just released its 2011 State of the World Report, subtitled "Innovations that Nourish the Planet."
By "innovations," Worldwatch means agriculture-based methods that have been shown to prevent food waste, help resist climate change, and promote urban farming.  The report describes 15 such innovations, all of them environmentally sustainable.
As Olivier De Schutter, the United Nations Special Rapporteur on the Right to Food, writes in the introduction,
Increasing the production of food and eradicating hunger and malnutrition are two very different objectives—complementary perhaps, but not necessarily linked…Some clear conclusions are emerging from all this evidence.

We need to improve the resilience of countries—particularly poor, net food-importing countires—vis-à-vis increasingly high and volatile prices on the international markets.

We need to encourage modes of agricultural production that will be more resistant to climate change, which means that they will have to be more diversified and use more trees….

And we need to develop agriculture in ways that contribute to rural development by creating jobs both on farms and off them in the rural areas and by supporting decent revenues for farmers.
The report describes programs that do just those things.  Examples: breeding rice in Madagascar, trading grain in Zanzibar, using solar cookers in Senegal, and promoting safer wastewater irrigation in West Africa.
It's always useful to have Worldwatch reports and this one is especially relevant to food, agriculture, and international development.