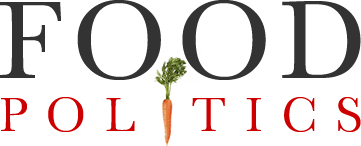 by Marion Nestle
Sam Kass's speech to the International Association of Culinary Professionals
Sam Kass, White House chef and Senior Policy Advisor for Healthy Food Initiatives gave the keynote address to members of the The International Association of Culinary Professionals (IACP) at its New York City Regional Conference on Friday.
The IACP is much more than an organization of cooks.  Every member I talked to is engaged in some incredible farming, gardening, school, or other kids' project, each more exciting than the next.
Kass spoke to an audience of people who care deeply about food, cooking, health, and kids, and eager to hear what he had to say.  Me too.
The core of his speech was a review of the accomplishments of the First Lady's Let's Move campaign, which has just completed its first year.   These, in sum, are considerable:
Over this past year, we've seen the first signs of a fundamental shift in how we live and eat.

We've seen changes at every level of our society—from classrooms to boardrooms to the halls of Congress.

We have begun to see this change because people from all over the country, parents and teachers, doctors and small business owners, have started demanding change.

…Parents asked for more fresh, nutritious food in communities.  So we're working to bring more grocery stores into underserved areas.

Parents wanted healthier, more affordable options on those grocery store shelves.  So we collaborated with food companies and retailers to provide healthier products….

Parents asked for more information about the food you buy for your kids.  And today, we're seeing better, clearer labels on beverage cans….

Parents asked for better food in your kids' schools—the kind of balanced meals they are trying to make at home.  So we're working to put salad bars in 6,000 schools across the country.  Congress passed the Healthy, Hunger-Free Kids Act, historic legislation that will provide healthier school meals to millions of American children.

Parents asked for healthier communities that can sustain healthy families.  And through Let's Move Cities and Towns, 500 mayors have committed to tackling obesity in their communities….

Parents asked for practical, affordable, real-life advice to keep kids healthy.  So we launched a public service campaign and a website—letsmove.gov—with helpful tips on exercise and nutrition….

If we can do all this in the first year, just imagine what we'll achieve next year and the year after that….

These kinds of changes will not come easily….There will certainly be many roadblocks and setbacks.  But we need to keep working to break through and work in a collaborative way.
Here's the speech in its entirety. It may sound speech-written and not overwhelming, but consider the context:  This is the first time food, nutrition, and health have gotten anywhere near this kind of attention at that level of government (at least, food writer Laura Shapiro tells me, since the time of Eleanor Roosevelt).
For the First Lady to take on these issues is truly extraordinary.  Mrs. Obama has no legislated power whatsoever.   She only has the power of leadership and persuasion.
That the kind of changes she is trying to make will not come easily is a breathtaking understatement.  The roadblocks are formidable.   Mr. Kass made it abundantly clear that the White House is trying to do what it can, and then some.
His speech was moving and inspiring.  It's up to us to cheer them on in every way we can, and also to keep the pressure on to do even more.