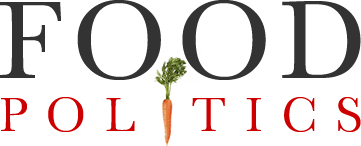 by Marion Nestle
The Lancet on the UK's anti-food policy
McPolicy: bringing you the Big Mac society
If you were a UK Health Secretary faced with soaring rates of obesity, alcohol misuse, and diet-related diseases, what would you do? Were you to take an evidence-based approach, you might consider minimum pricing per unit of alcohol and restrictions on its availability. You might look at toughening the regulation of how the least healthy foods are marketed to children.

You could even demand that manufacturers reformulate their least healthy products to meet minimum nutritional standards. Or you could, if your name was Andrew Lansley, dismiss all of the above and instead invite representatives of McDonald's, PepsiCo, and the drinks giant Diageo among others, to submit their policy suggestions on how best to deal with the UK's public-health crises for a forthcoming governmental white paper.

After the initial surprise, it can still take a while for the bizarre reality to sink in—that the companies who have profited the most from the epidemics of obesity and alcohol misuse should now be responsible for setting the agenda on public health simply beggars belief.

…The creeping influence of corporate power on public policy is not news to anyone in the UK, but the breathtaking speed and scale by which the UK coalition Government is embracing the agenda of business at the expense of the health of the electorate is an unwelcome novelty. By putting the interests of big business at the heart of public-health policy, Lansley is ensuring that the UK's big society will not be shedding the pounds any time soon.
The Lancet is a British medical journal with unusual and highly commendable editorial interests in international public health.  I'm happy to see it take on questions about the role of corporations in obesity.  The British Food Standards Agency was doing a good job of trying to institute policy approaches to obesity prevention, but these are not popular with corporations.  Recall: eating less is very bad for business.
And this kind of resistance to policy approaches is not just a British or European problem.  Our corporations also prefer what they do to be voluntary. So this is a cautionary tale.