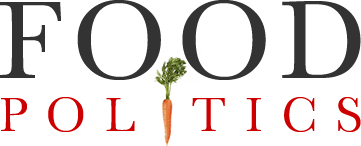 by Marion Nestle
James Beard journalism awards recognize food movement
I attended the James Beard Foundation's journalism awards ceremony last night.   These now go way beyond recognizing writing about recipes and cooking.  They now recognize the burgeoning food movement.  Here are a few highlights:
Harold McGee's On Food and Cooking won the classic cookbook award.  It's not a cookbook.  It's a serious work of scholarship on the science of food.  McGee says the book is now used in high school science classes and students tell him that studying food is inspiring them to go into science.
Barry Estabrook won an award for his outstanding "Politics of the Plate" blog.  He's already posted the award on his site!
The Edibles—the Edible community magazines—won in the magazine category.  There are now more than 60 of them in communities throughout the country, and more on the way.  They are the easiest way I know of to find out what's happening in food in your community or when traveling.
Eating Well, that health-conscious magazine way up in Vermont (I'm on its advisory board), picked up so many awards that I lost count.
My sentimental favorite: Grace Young won for Stir Frying to the Sky's Edge. And she gave the best acceptance speech I've ever heard at one of these things.
I'm most proud that the San Francisco Chronicle's food section, for which I write a monthly (first-Sunday) Food Matters column, won the newspaper award. 
Congratulations!