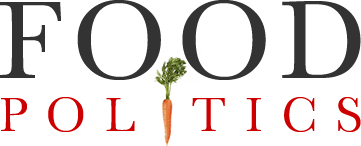 by Marion Nestle
Note to readers: a call for civility
I have received numerous complaints from readers about the increasingly hostile, aggressive, rude, and uncivil tone of some of the comments to this site.
I have not been censoring comments because I would like the site to be a forum for a wide range of opinions about matters related to food politics.  I know that people are passionate about their beliefs, and I do not take comments personally.
And for reasons of time and technical challenge, I have been reluctant to intervene.
But because I now understand that the tone of the comments is adversely affecting readers, I am calling for civility.
Societies set rules for civil behavior for a reason.  Lack of civility leads to hate and undermines democracy.
I do not want this site to contribute to the uncivil discourse that has become so common in our society.
No matter how strongly you feel about food politics issues, I expect your comments–whether aimed at me, other readers, or anyone else—to be offered thoughtfully, respectfully, and with an appropriate degree of civility.
I will delete comments that do not adhere to this expectation.
I thank all of you who have weighed in with your concerns about this and other issues.  Keep talking, please.