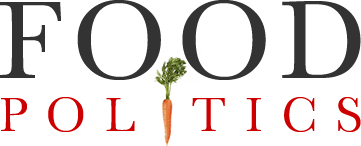 by Marion Nestle
Rethink the food label? Vote by Sunday noon!
The Berkeley group that organized a contest to redesign the food label has picked its top choices from among 24 entries.   Take a look at them on that site and vote for your favorite by midday Sunday.
Tara Parker-Pope has a nice summary on her New York Times blog along with interviews with the judges.  Lily Mihalik, cocreator of the project explains:
We asked food thinkers and design minds to come together and give advice on how they might rethink the food label and bring some insight into how design impacts choice…There are a lot of things right with the current label, but at the same time people are confused. The question is whether a new nutrition facts label could help people make more educated decisions.
Good question.  My take is that most of the entries are even more complicated than the current Nutrition Facts label and leave out a lot of useful things you might like it to do:
State the content of calories per serving
State the serving size
State the content of nutrients of interest per serving (opinions can vary as to which are worth listing)
Compare those levels to standards for daily intake
Explain how those levels apply to a typical day's diet
Indicate how the food fits into diets that vary in calorie intake
List ingredients
List allergens
Be accurate, noticable, understandable, and usable
Overall, the label is supposed to help consumers make more healthful food choices.  It also has to fit on food packages.
As several of the entries suggested, it would also be helpful if the label could indicate the degree of processing.  Actually, you can figure that out now by looking at the ingredient list.  Count the ingredients, see if you can pronounce them, and make sure they are recognizable as food.
If anything, this project demonstrates how difficult it is to develop a design that addresses all of these issues.   The January 6, 1993 Federal Register notice that announced the Nutrition Facts label takes up nearly 900 pages.
That notice reviewed the research that led to the current label.  The review makes it clear that nobody understood any of the available design options.   The FDA, under great pressure to meet a deadline set by Congress, chose the design that was least poorly understood.
Hence the FDA's web pages devoted to explaining how to read and interpret the Nutrition Facts label, and its even lengthier web guide to the food industry on how to create the labels.
The FDA is currently doing the preparatory work for an eventual revision of the label, so these designs come at an opportune time.  Take a look and see what you think of them. 
The designers were brave to take this on. 
And so is the FDA.