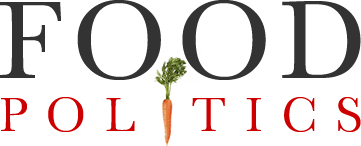 by Marion Nestle
More on the ethics of childhood obesity interventions
This seems to be my week for discussing ethical issues in food politics.
The September issue of Preventing Chronic Disease (PCD), a professional journal published by the CDC, is devoted to papers on this topic.
I taught a graduate course a couple of years ago at NYU titled "Ethical issues in nutrition, food studies, and public health."   These papers, and the ones I referred to earlier this week, could be the basis for a course on their own.
You are wondering why childhood obesity interventions raise ethical issues?
This diagram, from the paper by Shiriki Kumanyika, is a good starting place.  It asks: Should governments, health professionals, advocates, and others balance the protection of vulnerable populations against corporate imperatives and, if so, how?
Maybe next semester!
In the meantime, here are the papers along with thanks to CDC for taking this on.
ETHICAL ISSUES IN INTERVENTIONS FOR CHILDHOOD OBESITY
A91: Ethical Concerns Regarding Interventions to Prevent and Control Childhood Obesity
John Govea

---

PEER REVIEWED
A92: Protecting Children From Harmful Food Marketing: Options for Local Government to Make a Difference
Jennifer L. Harris, Samantha K. Graff

---

PEER REVIEWED
A93: Childhood Obesity: A Framework for Policy Approaches and Ethical Considerations
Rogan Kersh, Donna F. Stroup, Wendell C. Taylor

---

PEER REVIEWED
A94: Childhood Obesity: Issues of Weight Bias
Reginald L. Washington

---

PEER REVIEWED
A95: Children With Special Health Care Needs: Acknowledging the Dilemma of Difference in Policy Responses to Obesity
Paula M. Minihan, Aviva Must, Betsy Anderson, Barbara Popper, Beth Dworetzky

---

PEER REVIEWED
A96: Public Policy Versus Individual Rights in Childhood Obesity Interventions: Perspectives From the Arkansas Experience With Act 1220 of 2003
Martha M. Phillips, Kevin Ryan, James M. Raczynski

---

PEER REVIEWED
A97: A Question of Competing Rights, Priorities, and Principles: A Postscript to the Robert Wood Johnson Foundation Symposium on the Ethics of Childhood Obesity Policy
Shiriki K. Kumanyika

---

PEER REVIEWED
A98: The Ethical Basis for Promoting Nutritional Health in Public Schools in the United States
Patricia B. Crawford, Wendi Gosliner, Harvey Kayman

---

PEER REVIEWED
A99: Ethical Family Interventions for Childhood Obesity
Mandy L. Perryman

---

PEER REVIEWED
A100: Public Policy Versus Individual Rights and Responsibility: An Economist's Perspective
Frank J. Chaloupka

---

PEER REVIEWED
A101: State Requirements and Recommendations for School-Based Screenings for Body Mass Index or Body Composition, 2010
Jennifer Linchey, Kristine A. Madsen