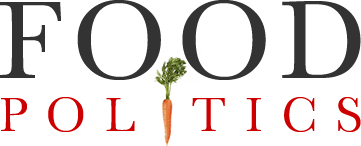 by Marion Nestle
It's OK to use food stamps to buy fast food? Better check for conflicts of interest
Readers Robyn and Will sent me a link to an ABC News story about Yum! Brands efforts to get more states to authorize the use of food stamp (SNAP) benefits in fast food restaurants.
Michigan, California, Arizona, and Florida already do this.  Yum!, the parent company of KFC, Taco Bell, and Pizza Hut, wants it to go national.
They write:
We believe that food stamps should be used to buy nutritious food for kids and families, not junk food! This nonsense has to stop!  This is a government program–it should not be a means for corporations to sell products that will eventually lead to ever-increasing health problems–obesity, heart issues, diabetes, etc. What can we do to be heard?
USA Today did a story on this last week.  It elicited more than 1,000 comments.  I'm not surprised.
The issue thoroughly divides the food advocacy community.   Public health and anti-hunger advocates sharply disagree on this issue, as they do on the question of whether sodas should be taxed.
USA Today quoted Kelly Brownell, director of Yale's anti-obesity Rudd Center:
It's preposterous that a company like Yum! Brands would even be considered for inclusion in a program meant for supplemental nutrition.
But then the article quoted Ed Cooney, executive director of the Congressional Hunger Center and a long-time anti-hunger advocate:
They think going hungry is better?…I'm solidly behind what Yum! is doing.
Of course he is.  Want to take a guess at who funds the Congressional Hunger Center?
Yum! is listed as a "Sower," meaning that its annual gift is in the range of $10,000.   I'm guessing Yum! is delighted that it is getting such good value at such low cost.
USA Today was negligent in not mentioning Mr. Cooney's financial ties to Yum! and other food brands.  Such ties matter, and readers deserve to know about them.
But Mr. Cooney's argument worries me on grounds beyond the evident conflict of interest.
For one thing, it smacks of elitism.  "Let them eat junk food" argues that it's OK for the poor to eat unhealthfully.  I think the poor deserve to be treated better.
For another, promoting use of SNAP benefits for fast food and sodas makes it and other food assistance programs vulnerable to attack.
Rates of obesity are higher among low-income groups, including SNAP recipients, than in the general population.
Anti-hunger and public health advocates need to work a lot harder to find common ground if they want food assistance programs to continue to help low-income Americans.
Let's be clear about what's at stake here.  SNAP is an entitlement program, meaning that anyone who qualifies can get benefits.
In June 2011 alone, according to USDA, 45 million Americans received an average of $133 in benefits at a total cost to taxpayers of more than $6 billion.
That's a lot of money to spend on fast food.  Yum!'s interest in getting some of that money is understandable.
If you think low-income Americans deserve better:
Complain to Congress for permitting the legal loophole that allows this.
Insist to USDA that SNAP benefits be permitted only for real food.
Get your city to recruit farmers' markets, grocery stores, and other sources of healthy food to low-income areas.
Let your congressional representatives know that you want a safety net for people who are out of work that enables people to eat healthfully.
 And tell the Congressional Hunger Center and similarly inclined anti-hunger groups that you think conflicts of interest interfere with their ability to help the clients they are supposedly trying to serve.