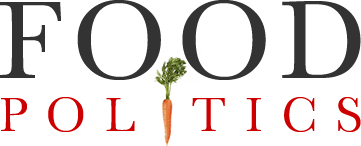 by Marion Nestle
Clarification of yesterday's post on using SNAP for fast food
As many of you have pointed out, the use of SNAP benefits in fast food restaurants is a state decision but one that is supposed to be limited to the elderly, disabled, and homeless (whether those limitations are adhered to in practice is another question).
This morning I received further clarification from Aaron Lavallee, Communications Coordinator in the USDA Office of Communications. Mr. Lavallee, whom I don't think I've met, writes:
Marion,

I just read your post in the Atlantic and wanted to follow up with you with some information that can clarify some of the misinformation posted and to help bring accuracy to parts that may be misleading for your readers.

You probably know most of this but Restaurant Meal Program has been an option for states – state run, state contracted, state administered – since the 1977 Food Stamp Act. The decision to establish a restaurant meal program is made entirely at the state level.

Most importantly, the ONLY people who qualify are the elderly, disabled, and homeless, as this provision is intended to assist people who are unable to prepare meals at home or in a traditional kitchen setting. This key fact and requirement of the law is mentioned nowhere in your article and we can both agree that with that clarification this story changes drastically.

Since 1977 the decision to establish a restaurant meal program has been made by only a handful of states and because of this participation is very low.

As noted in your article, California, Arizona, and Michigan are operating State administered restaurant programs serving their elderly, homeless, and disabled populations. Rhode Island began a limited pilot restaurant program on August 1, 2011. However you also mention Florida without providing the facts to your readers. In 2009, Florida began operating a pilot program in one county and has a total of only 14 restaurants participating. Furthermore in Florida this option is ONLY available to the homeless. To date Florida has not expanded that pilot.

The original emails to you from readers Robyn and Will were inaccurate – this is not an option for any SNAP beneficiary which is what they are thinking.

Additionally you close by drawing a false conclusion – "In June 2011 alone, according to USDA, 45 million Americans received an average of $133 in benefits at a total cost to taxpayers of more than $6 billion. That's a lot of money to spend on fast food." This can't be spent on fast food because it is not an option for the 45 million Americans on SNAP.

Your voice has been and will continue to be an important one when it comes to nutrition in America. Your opinion continues to add to the healthy dialogue on critical issues ranging from MyPlate to the school meal programs. Your insight and knowledge on these topics is beneficial to everyone working to improve the health and wellbeing of Americans.

This is a critical opportunity for those of us with the ability to communicate to do so actively and accurately.

Because of that I ask that you add a clarifying note to your blog post highlighting the facts and clarifying for your readers you're the truth about this program.

Please know that I am glad to help provide any information I can. Tim Laskawy at Grist hit the nail on the head with his piece.
I apologize for not making the restrictions clear in my original post and I thank all of you and Mr. Lavallee for taking the trouble to file corrections.
I also should have said that the billions of dollars in SNAP benefits could be a lot to spend on fast food. 
SNAP must look like a honey pot to fast food and other companies that cannot wait to get their hands on some of those benefits.  That's what Yum! (Taco Bell, Pizza Hut, etc) is trying to do.
But make no mistake.  Yum! is not a social service agency concerned about feeding the elderly, disabled, or homeless.  Yum! wants to attract low-income people with SNAP money to spend to its fast food restaurants.