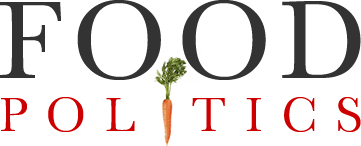 by Marion Nestle
Nutritionist's Notebook: Consuming Calories
On Tuesdays, I answer questions about nutrition for NYU's student newspaper, the Washington Square News.  Yesterday's was about when calories count.
Question: With finals approaching ,many students will be staying up very late. Is the time of day important in relation to when you are consuming most of your calories? What are some good late-night, study snack options for students?
Answer: Having just written a book about calories, they are much on my mind. Here is one take-home lesson from the book. If you look only at body weight, calories are the determining factor. If you eat more calories than you need, you gain weight no matter where the calories come from.
But if you care about health, the source of the calories is crucial. What can be confusing about this distinction is that eating a healthy diet — one with plenty of vegetables, fruits and grains and only occasional junk food — makes it much easier to balance calories.
The two results of what you eat — weight and health — are closely linked.
Does when you eat matter? From a strictly caloric standpoint, no. If you haven't overeaten during the day, adding calories late at night should not be a problem.
But if you habitually add late-night calories to full meals during the day, you might find your weight creeping up. Some studies show that the more times a day people eat, the more calories they consume. But others find that consuming small amounts of food throughout the day helps people maintain weight. You need to figure out for yourself which pattern works best.
The only way to tell if you are eating the right amount of calories is to weigh yourself regularly. If your weight is going up, you might want to avoid adding calories in late-night snacks.
What's a reasonable snack? Any real, relatively unprocessed food is always a good choice: fruits, vegetables, nuts, yogurt, cheese, crackers, sandwiches, salads. Even pizza can do the trick if it's thin crust and not overflowing with cheese.