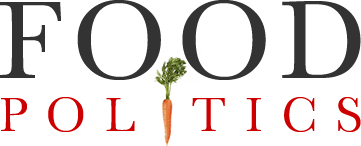 by Marion Nestle
Energy drinks, Cracker Jacks, and caffeine: enough already
People who consume caffeinated energy drinks may be dying right and left (Because of the caffeine?  The drinks?  Hard to say) but that isn't stopping food manufacturers from adding it to everything: Cracker Jacks, jelly beans, Gummi Bears, brownies, mints, and maple syrup.
The FDA has just released its data on problems reported among users of three caffeinated energy drinks.
According to the New York Times,
The three products involved in the release — Rockstar Energy, 5-Hour Energy and Monster Energy — are all marketed as dietary supplements. Other energy drinks like Red Bull, NOS and AMP are marketed by their producers as beverages. There is not a mandatory reporting requirement for beverages, though makers can do so voluntarily.

In releasing the filings, the F.D.A. said it thought that even with the mandatory reporting requirement for dietary supplements, "only a small fraction of adverse events associated with any product is reported."

…The records related to Monster Energy and 5-hour Energy came to light because they were released by the F.D.A. under the Freedom of Information Act.
The choice of labeling these products as foods or supplements deserves scrutiny.  By an act of Congress, dietary supplements do not have to meet the same standards for content and health claims as foods, and the FDA cannot do much to regulate them unless the products are demonstrably harmful.
Even though people died after drinking these products does not necessarily mean that the products caused the deaths.  Even this number of deaths could be a coincidence.
But earlier, the Times reported that
Since 2009, 5-Hour Energy has been mentioned in some 90 filings with the F.D.A., including more than 30 that involved serious or life-threatening injuries like heart attacks, convulsions and, in one case, a spontaneous abortion….

Some lawmakers are calling on the F.D.A. to increase its regulation of the products and the New York State attorney general is investigating the practices of several producers.
I looked up the Supplement Facts label for 5-Hour Energy.
According to statements given to Beverage Daily, 5-Hour Energy says there isn't any evidence that its products cause deaths.  Its shots contain no more caffeine than a cup of coffee, and do not contain herbal ingredients.
But the product label does not list caffeine content.  The FDA does not require companies to disclose caffeine levels.
It allows them to market the products as drinks or as dietary supplements. Monster Energy contains 240 mg caffeine in 24 ounces.  It has been associated with the deaths of five people so far.
The Times points out that healthy adults can consume large amounts of caffeine with no evidence of harm but that caffeine can be risky for people with underlying conditions like heart disorders.  How much is risky?  It's hard to say.
Most adults know how much caffeine they can handle without getting shaky or sleep-deprived.  But kids don't, necessarily.
Consumer Reports tested products and found that some energy drinks contained more than 240 mg per serving, but notes that packages sometimes contain more than one serving.
The FDA considers caffeine to be safe.  But in an opinion last updated in 2011, FDA's Select Committee on GRAS Substances found that "it is inappropriate to include caffeine among the substances generally recognized as safe (GRAS). At current levels of consumption of cola-type beverages, the dose of caffeine can approximate that known to induce such pharmacological effects as central nervous system stimulation."
The Times notes that sales of energy drinks in the U.S. are booming, growing by about 16% last year and bringing in nearly $9 billion.
What to do?  A lawyer for the parent of one of the teenagers who died after drinking Monster Energy is urging the FDA to ban the drinks to minors.
The FDA should investigate the cases, for sure.
And how about adding amounts of caffeine to labels.  That seems like a no brainer while the investigations are in progress.