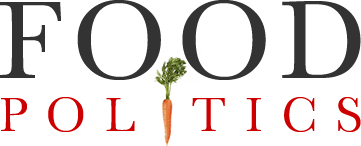 by Marion Nestle
Energy drinks: Why deregulation is not such a good idea
Concerns that highly caffeinated Monster Energy drinks might be responsible for the recent deaths of at least five young adults are, as I see it, a direct result of deregulation of food oversight.
Here's my version of the history leading up to the present situation:
In 1994, Congress passed the Dietary Supplement Health and Education Act (DSHEA), which in essence deregulated dietary supplements, permitted them to be labeled and regulated as supplements, not foods, and removed much of FDA's authority over their contents and health claims.
The dietary supplement industry, as I explain in Food Politics, wrote much of the key language of this law.
When the FDA tried to enforce its food rules for supplements, the courts ruled in favor of manufacturers on First Amendment grounds.
Because rules for supplements are less restrictive than those for foods, some manufacturers prefer labeling their products as supplements.
Monster Energy drinks are labeled as supplements, removing them from much of FDA's authority.
The results of DSHEA, in this case, are explained by the New York Times:
But while the F.D.A. regularly makes adverse event reports about drugs and medical devices publicly available, it does not do so for dietary supplements like energy drinks. Because of that policy, consumers had no way of knowing of the complaints about Monster Energy drinks before incident reports were released by the F.D.A. in response to a formal Freedom of Information Act request.

Also, while supplement makers have been required since late 2007 to alert the F.D.A. to possible product-related deaths and injuries, Monster Beverage submitted just one such report to the agency over the last four years, agency officials said.
Most likely because of their high caffeine content, sales of energy drinks are rising rapidly, as shown in this graphic from the Times:
Booming sales means booming profits, and the makers of energy drinks are under pressure to cash in.  That sometimes means cutting corners or not always matching contents to labels.
For example, a Consumer Reports investigation of the caffeine content of energy drinks identified some discrepancies.
Caffeine levels per serving ranged from about 6 milligrams to 242 milligrams per serving—and some containers have more than one serving. The highest level was in 5-hour Energy Extra Strength; the lowest in the seemingly oxymoronic 5-hour Energy Decaf…By comparison, an 8-ounce cup of coffee has about 100 milligrams; a 16-ounce Starbucks Grande, 330 milligrams.
Five of the 16 products that list a specific amount of caffeine…had more than 20 percent above their labeled amount on average in the samples we tested. On the other hand, one…had caffeine about 70 percent below the labeled amount.
Consumer Reports noted one other key point: the FDA considers caffeine as GRAS (Generally Recognized As Safe) and does not require amounts to be listed on labels.
A representative of the Monster Beverage Corporation explained that his company does not list caffeine levels "because there is no legal or commercial business requirement to do so, and also because our products are completely safe, and the actual numbers are not meaningful to most consumers."
Consumer Reports points out that Monster drinks—like those of 16 other products—warn against use by children, pregnant or nursing women, and people sensitive to caffeine, and recommend a daily limit.
Whether the Monster Energy drinks are really responsible for the reported deaths will not be easy to establish.  One victim, age 14, is said to have consumed two 24-ounce Monster drinks containing 240 mg caffeine each within a day or two.
That energy drinks are labeled as supplements ties the FDA's hands in dealing with such products.
Here are some suggestions to consider:
Label energy drinks with standard Nutrition Facts panels.
Require amounts of caffeine to be stated on the label.
Limit the amount of caffeine that can be included in soft drinks.
Two Senators (Durban and Blumenthal)—not for the first time—are pushing the FDA to investigate.  Good idea.  I can only speculate about why the FDA isn't responding, but I'm guessing that this issue, like so many others, is too controversial to take up during an election campaign.
Soon, please.