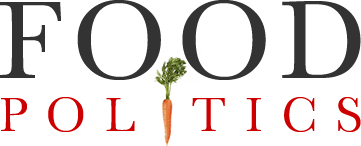 by Marion Nestle
More on energy drinks
You have to love the marketing geniuses at Monster Energy Drink.
As I suggested in a previous post, it and similar products have become the new frontier for food advocacy, largely because of linkages, as yet unproven, between their high caffeine content and the deaths of several young people.
Now, Suffolk County has passed legislation that blocks companies from giving free samples and coupons to minors and selling the drinks in county parks.
In 2010, Suffolk Country introduced a previous version of the bill that proposed to ban sales of energy drinks to anyone 19 or younger.
How is Monster Energy responding to such assaults?
Clever: change its labels from Supplement Facts to Nutrition Facts.
Why would it do this?
As explained in the New York Times, Monster Beverage "will no longer be required to tell federal regulators about reports potentially linking its products to deaths and injuries" [doing so is required for supplements, but not foods].
A spokesman for Monster, Michael Sitrick, said the company had decided to market its products as beverages for several reasons. One was to stop what he described as "misguided criticism" that the company was selling its energy drinks as dietary supplements because of the belief that such products were more lightly regulated than beverages [Misguided? They are more lightly regulated].

Another consideration, he said, was that consumers can use government-subsidized food stamps to buy beverages [EBT-card benefits cannot be spent on supplements].
Let's see if other places follow Suffolk County's lead.