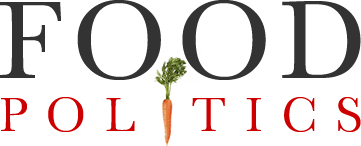 by Marion Nestle
White House weakened food safety rules
I subscribe to Food Chemical News, at great expense but for good reason.  On Friday, I received this alert addressed to Dear Subscriber:
Food Chemical News has discovered a stunning set of documents, made available by the Department of Health and Human Services as part of a transparency initiative, that prove FDA was forced by the White House Office of Management and Budget to remove certain elements from the draft of its FDA Food Safety Modernization Act preventive controls proposal. It had long been speculated among FDA watchers that the agency intended to include requirements for product testing, maintaining supplier verification programs and tracking consumer complaints in its FSMA proposal, published in the Federal Register Jan. 16, but the eight documents we found this week, while searching for other information, confirm it.
Food Chemical News is reporting that documents released on regulations.gov on Feb. 28 reveal cuts made by the White House Office of Management and Budget (OMB) to the implementing regulatory package for the Food Safety Modernization Act (FSMA).Those apparent cuts include striking out requirements for food companies to test for microbial contamination of environments and finished food products, as well as rules for companies to maintain supplier verification programs and track consumer complaints.

We encourage readers to review the documents here and comment on anything of interest in our comment section.
The documents say that the White House deleted:
Requirements for environmental monitoring for pathogens.

Requirements for finished product testing for pathogens.

An assumption that if environmental monitoring finds pathogens on food-contact, the pathogens are also in the food.

Requirements for a supplier approval and verification program.

A requirement that companies review consumer complaints about safety.

FDA authority to copy company records.
Added a year to the length of time companies and farms of all sizes have to comply with the law. 
Why?  Undoubtedly election-year politics.  The election is over.  
The FDA needs to do its job.  
Let's get these items reinserted.
The safety of Americans is at stake here.