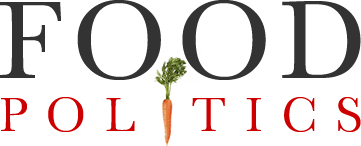 by Marion Nestle
Weekend reading: new books about eating
Amanda Cohen and Ryan Dulavey. Dirt Candy: Flavor-Forward Food from the Upstart New York City Vegetarian Restaurant, Clarkson Potter, 2012.
This is a charming, utterly delightful, graphic novel about Amanda Cohen's poignant and often hilarious trials and tribulations in opening and promoting (Iron Chef!) her restaurant Dirt Candy.  It's hard to do justice to it without including illustrations but here's a brief glimpse of the text:
But sometimes the problem isn't the customer.  Sometimes the problem is me.  I was a good girl until I met my match in that plate of Roasted Cauliflower Pappardelle.  They all tried to warn me…but I wasn't listening!  I was blind that winter because…I fell in love with the wrong dish.
It comes with recipes, right from the restaurant.
Book signing alert: Amanda will be signing books at the Union Square (New York) farmers' market tomorrow, Saturday, at noon.
Andrea Curtis. What's for Lunch?  How Schoolchildren Eat Around the World, Red Deer Press, 2012.
This is a short (40-page) picture book—drawings and photographs—to inspire anyone interested in school food to try some different foods for a change.
What kids eat for school lunch can also tell us a lot about the culture and history that make them and their country unique.  After all, what better way to get to know people than to share a meal with them?…Kids are gardening, cooking, and speaking out about their right to eat healthy lunches.  Their work is transforming schools and helping the planet too.
Andrew Weil and Sam Fox, with Michael Stebner.  True Food: Seasonal, Sustainable, Simple, Pure.  Little, Brown, 2012.
I blurbed this one:
Andrew Weil is a rare member of a special class of diet gurus: he appreciates good food.  This shows in his philosophy of healthy eating—if meals are delicious, people will eat them.  It also shows in every recipe in this book.  Weil and his colleagues encourage adventurous eating and some of the ingredients may be unfamiliar, but even the simplest recipe—tomato and watermelon salad, for example—will make mouths water.
Allison Adato.  Smart Chefs Stay Slim: Lessons in Eating and Living from America's Best Chefs, New American Library, 2012.
I blurbed this one too:
Overeating may be an occupational hazard, but some chefs manage to maintain their weight.  Smart Chefs reveals their successful strategies for eating what they love—in moderation, of course.  Their "lessons" should work for anyone who adores food.  Fun to read and packed with good advice.
Stephanie V.W. Lucianovic.  Suffering Soccotash: A Picky Eater's Quest to Understand Why We Hate the Foods We Hate, Perigee, 2012.
I'm not much of a picky eater, so I'm fascinated by people who are.  Lucianovic tells an entertaining story of her life in pickiness.  My favorite chapter: "The picky eater eats out." This contains a section called "the picky eater's guide to surviving a dinner party," with some rather socially unacceptable suggestions about where to hide unwanted food.  But she learned to cook and got over it (sort of).  If pickiness makes you miserable, this might be just the cure.
Eleanor Boyle. High Steaks: Why and How to Eat Less Meat, New Society Publishers, 2012.
What's wrong with livestock?  What's wrong with meat?  In moderation, nothing—if you accept that humans have the moral right to use animals for food.  Most people accept this—ad I do—as long as we treat animals respectfully and maintain some reverence for taking their lives….But is it possible, as the evidence increasingly suggests, that we're making and eating too much for the good of the planet and our personal and community well-being?
This book addresses those questions and suggests strategies for ensuring that meat is produced in a sustainable, ecologically responsible manner and for developing policies that discourage factory farming and encouraging responsible and healthful meat-eating practices.