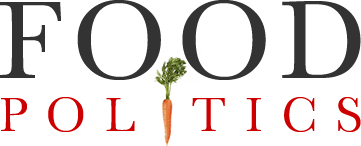 by Marion Nestle
Barclays agrees to stop speculating on food. Is Fred Kaufman responsible?
World Development Movement proudly announces that Barclays bank has agreed to stop speculation on food commodities.  Betting on food drives up world food prices.
Until now, Barclays has been the leading UK bank involved in speculation on food including staples like wheat, maize and soy. The bank made up to an estimated £500 million from speculating on food in 2010 and 2011.
The effects of speculation on world hunger is the reason why Fred Kaufman wrote Bet the Farm: How Food Stopped Being Food (Wiley, 2012).  As I noted in an earlier post, his book is a riveting account of how banks make money by treating food as a speculative widget, driving up prices, and adding global hunger.
Did Bet the Farm have anything to do with shaming Barclay's into doing the right thing?
World Development Movement takes credit.  Kaufman should too.