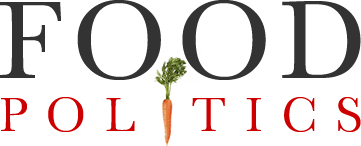 by Marion Nestle
Petition to FDA: it's time to put "added sugars" on food labels
Center for Science in the Public Interest (CSPI) held a press conference this morning to announce that 10 health departments, 20 health and consumer organizations, and 41 health professionals (including me) have signed a letter in support of its petition asking the FDA to:
Initiate a rule-making proceeding to ensure that the content of sucrose and HFCS in beverages is limited to safe levels consistent with authoritative recommendations. 

Revise the "Sugars" line on Nutrition Facts labels to address "added sugars."

Set targets for lower levels of added sugars in other foods that provide significant amounts. 

Conduct a public education campaign to encourage consumers to consume less added sugars.
The petition also asks the FDA to work with the food industry to:
Limit the sale of oversized sugar-sweetened beverages in restaurants

Limit the sale of oversized sugar-sweetened beverages from vending machines

Develop means to reduce the use of added sugars.
Our letter of support begins:
The undersigned scientists and organizations are concerned about Americans' excess consumption of added sugars…Every edition of the Dietary Guidelines for Americans (going back to 1980) has recommended reducing consumption of added sugars, but Americans are consuming more added sugars (including sucrose, high-fructose corn syrup, corn syrup, and other caloric sweeteners) now than they did in 1980. And that high level of consumption…is contributing to serious health problems.
If the situation with trans fats was any indication, the food industry will reduce the sugars in its products if it has to disclose them.
This is not the first time that CSPI has tried to get added sugars labeled (see petition from 1999).  I'm hoping the letter of support will encourage the FDA to take action this time.
Maybe it will even put sugars on front-of-package labels, as the Institute of Medicine suggested in 2011.