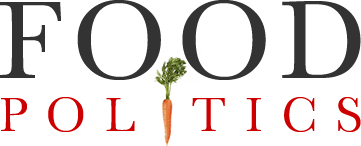 by Marion Nestle
Mini Book Review: The Stop
I'm teaching Food Advocacy at NYU this semester and am using a book that comes out today:
Nick Saul and Andrea Curtis.  The Stop: How the fight for good food transformed a community and inspired a movement.  Random House Canada 2013.
Husband and wife team Saul and Curtis wrote this chronicle of Saul's 15-year stint as the director of The Stop, a place that started out as a soup kitchen but ended up as much more.
This is an important book.  The Stop is no ordinary account of the substantial benefits of soup kitchens to servers and served.  It is an impassioned account of how to create food systems that foster independence and eliminate the indignities of charity.   Saul and Curtis put a human face on poverty.  If you want to know what today's food movement is really about—and why it is anything but elitist–read this book.
Ordinarily, I hope that readers will order and buy books I mention at local, independent bookshops.  But this one is only available in Canada.  Here's its link at Amazon Canada.