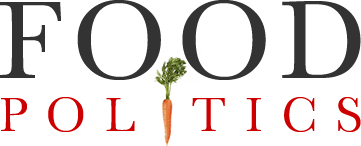 by Marion Nestle
Why regulate? Because it works.
JAMA Pediatrics has just published the online version of a study by Daniel Taber et al, Association Between State Laws Governing School Meal Nutrition Content and Student Weight Status: Implications for New USDA School Meal Standards.
I wrote the accompanying editorial: School meals: A starting point for countering childhood obesity.
In it, I review how researchers like Taber et al are demonstrating how regulations aimed at changing the environment of food choice seem to be helping children and adults eat more healthfully.
That is why regulation is worth consideration.
The food industry cannot make significant changes on its own.  Food companies are beholden to stockholders and returns to investors.
We can't count on consumer demand.  It's up against the billions of dollars spent on food marketing, advertising, and lobbying.
It's government's role to level the playing field.
Studies like this one are beginning to show positive results.
If you take junk food and sodas out of schools, kids don't eat as much of them and are healthier.  If you have strict nutrition standards for school food, the food is healthier and so are the kids.
This may all seem self-evident, but now we have research to prove it.
Government agencies should pay close attention and figure out everything they can do to make the food environment healthier for children and adults.