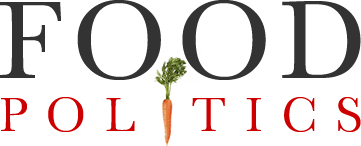 by Marion Nestle
Today: The Tenth Anniversary edition of Food Politics
Please welcome the Tenth Anniversary Edition of Food Politics.
It's comes with an exceptionally gracious Foreword by Michael Pollan.  I wrote a new Preface and a lengthy Afterword to bring it all up to date.
Doing the Afterword gave me a chance to think about what's happened in the food movement over the past ten (eleven, really, but who's counting) years since Food Politics first appeared in 2002.
Indeed, a great deal has happened, and much of it good, thanks to everyone who is working to create a healthier and more sustainable food system.
Read and enjoy!