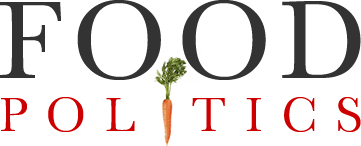 by Marion Nestle
World Nutrition celebrates ten years of Food Politics
The May issue of World Nutrition, the online journal of the World Public Health Nutrition Association, features commentary on–and excerpts from the tenth anniversary edition of Food Politics.
Contents: World Nutrition 2013, 4, 5, 271-295.
Geoffrey Cannon on "The heavy hitter,"  page 271
Michael Pollan on "The game changer,"  page 273
Excerpts from Marion Nestle's Preface: "Standing up and speaking out," page 275
Excerpts from Marion Nestle's Afterword:
Our children are not protected, page 279

Let's Move–Where?  page 280

Obesity, page 281

Marketing to children, page 282

School meals, page 287

Sugared soft drinks, page 290

Dawn is breaking, 293
World Nutrition says: Readers may make use of the material in this column if acknowledgement is given to the book's publisher. Please cite as: Nestle M. Food is a political issue. World Nutrition May 2013, 4,5, 270-295. Obtainable at www.wphna.org.