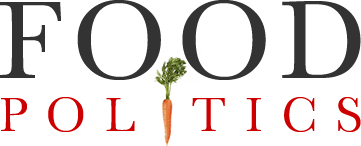 by Marion Nestle
The Farm Bill farce: 227 amendments
The House of Representatives Rules Committee is dealing with the Farm Bill.  The Committee has posted the relevant documents on its website, so you can judge for yourself how our political system works these days.
It's hard to know what to make of the amendments—all 227 of them—or which ones are worth attention.  Many deal with SNAP, the Supplemental Nutrition Assistance Program, which the House wants cut to pieces.
The Rules Committee will decide this afternoon what to do about the amendments.  Discuss?  Invoke cloture and cut off discussion?  We will see.
In the meantime, here are some examples.
Repeals the National Sheep Industry Improvement Center.

Requires that at least 50 percent of the funds made available for the Farmers Market Nutrition Program be reserved for seniors.

Requires the Secretary of Agriculture to conduct a study on current USDA programs related to the Lesser Prairie Chicken to analyze the economic impact and effectiveness of these programs.

Facilitates cost-neutral purchasing of Kosher and Halal food within the Emergency Food Assistance Program and improve information provided to participating food banks on availability of Kosher and Halal food.

Allows states to conduct drug testing on SNAP applicants as a condition for receiving benefits.

Prohibits the availability of funds for China under the Food For Peace Act. 

Prohibits retaliatory actions against livestock producers and poultry growers when they express opinions about unfairness in the marketplace to public officials.

Prohibits the USDA from sending payments to the Brazil Cotton Institute.

Eliminates funding for Nutrition Education programs.
Establishes the sense of Congress that the Federal Government should increase financial support provided to urban community gardens and victory gardens to heighten awareness of nutrition and self-sufficiency.

Allows Skyview subdivision to meet the requirements of the USDA Rural Development grant for water and waste disposal.
You get the idea.  Think: lobbying.
The main issue is SNAP.  House Republicans don't like it much (too expensive, too wasteful, too inducing of dependency and fraud).
You don't believe this?  Here's what the chair of the House Agriculture Committee, Frank Lucas, R-Okla., produced to convince House members to vote for a farm bill with $20 billion cut from SNAP over the next 10 years.
Addition: The White House says it will veto the farm bill if the $20 billion SNAP cut remains.