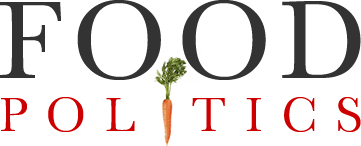 by Marion Nestle
Mini book review: Foodist
I'm on the road this week and getting caught up on reading.  I"m not usually interested in diet books but this one is more about healthy eating than losing weight.
Darya Pino Rose.  Foodist: Using Real Food and Real Science to Lose Weight Without Dieting.  HarperOne, 2013.
I first heard of Darya Pino Rose in connection with her guide to getting through supermarkets.  She's a neurobiologist who confesses to chronic dieting.  Once she figured out the science, she figured the rest  would be easy.
Focusing on real food instead of those specialty, highly processed diet foods is the secret to making healthy food enjoyable.  My recipe for how to make cauliflower taste as good as french fries (p. 237) has convinced hundreds of skeptics that vegetables aren't just palatable, but can be insanely delicious.
Her advice for handling restaurants and friends and family is eminently sensible and worth trying for those who have trouble with such things (and who does not?).