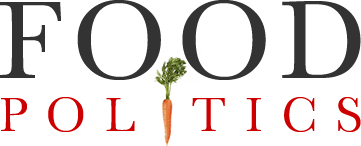 by Marion Nestle
New York: Mayoral Candidate Forum on Food, Agriculture, Nutrition & Hunger
I am moderating a forum for candidates for Mayor of New York City at The New School's Tishman auditorium, 66 West 12th Street.  It runs from 6 – 8 p.m. (Doors open at 5 p.m.).
The Forum is co-hosted by the Brooklyn Food Coalition, City Harvest, Food Bank For New York City, Food Chain Workers Alliance, Food Studies program at The New School for Public Engagement, Food Systems Network NYC, Hunger Action Network NYS, Just Food, New York City Coalition Against Hunger, New York City Food Policy Center at Hunter College, NRDC Action Fund, and Public Health Solutions.
These are joined by about 70 partner organizations, and the list is growing.
I get to ask the questions.  What fun!
The forum will be live streamed over the Internet. Click here for additional details.