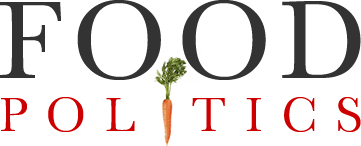 by Marion Nestle
The Mayors' Forum: History in the Making
Last night's forum with six candidates for Mayor of New York surely marks the first time that political candidates have had to grapple publicly with food issues—those of greatest concern to members of the 12 co-host organizations and 76 supporting organizations involved in planning this event.
The issues:
Ending hunger and food insecurity
Improving the wages and conditions of food industry workers
Getting city food agencies to be more responsive to public concerns
Improving access to healthy foods among low-income residents
Expanding participation in school meal programs and improving the quality of school food
Taking action to reduce the health consequences of obesity among city residents
Using the city's vast purchasing power to support regional agriculture and the food economy
Integrating the Hunts Point Produce Market into the regional food economy
Promoting use of city land for urban farming
The candidates made it clear that they had thought about these questions and had come prepared to answer them.
The take home lesson: New York City's food movement is strong enough to make city candidates sit up, listen and take food issues seriously.
The agenda is clear: maintain the momentum and hold the next mayor accountable.
For a recap:
The candidates who appeared:
Sal Albanese – @SalAlbanese2013
Bill de Blasio – @deBlasioNYC
John Catsimatidis – @JCats2013
John Liu – @JohnLiu2013
Christine Quinn – @Quinn4NY
Anthony Weiner – @AnthonyWeiner
One of the co-host organizations, the Food Systems Network of NYC, puts the agenda in a slightly different way, in its "Recipe for the Future of Food":
A New Public Partnership for Food (a City of New York Department of Food and an Independent New York City Food Systems Council)
Better Health and an End to Hunger
A Strong Food Economy with Good Jobs
Support for Regional Agriculture through Smart Procurement and Protection of Working Land and Water Resources
New Farm-to-Plate Distribution Infrastructure
Better Food Waste Reduction and Nutrient Recovery
There's plenty to do.  Do it!
Addition:  The account in the Wall Street Journal.