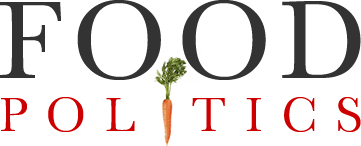 by Marion Nestle
If you like books with food maps, try these
Darin Jensen and Molly Roy, eds.  Food: An Atlas.  Guerrilla Cartography, 2013.
This is fun.  It's a book of big maps on food production, distribution, security, exploration, and identity, mostly American but some international.  Take a look at such maps as those for rooftop farming in New York City, global imbalance of food availability, the rise of British food banks, and Taco trucks of East Oakland.
It reminds me a lot of:
Erik Millstone and Tim Lang.  The Atlas of Food: Who Eats What, Where and Why.  Earthscan, 2003.
This one is British and more overtly political.  Its maps cover such things as over- and under-nutrition, food aid as power, genetic modification, trade flows, advertising, and "Citizens Bite Back."