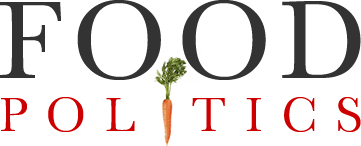 by Marion Nestle
A brief early comment on the (ugh) farm bill
It's too soon for me to say much about the farm bill other than to express disgust for the entire process.
The House and Senate still have to vote on it, which leaves plenty more opportunity for last-minute amendments, the addition of even more pork, and even more welfare for the rich at the expense of the poor.
In the meantime, we have the
What can I say?  The farm bill is a mess—the worst example of the worst of food politics.
Every clause in those 949 pages exists as the result of special-interest lobbying.  Guess what: some special-interest groups have more money and power than others.
The result: an unattractive compromise.
If the bill is ever to pass, everyone has to compromise, but some groups have to compromise more than others.
How else to explain the Center for Budget and Policy Priorities' statement that the SNAP cuts represent a reasonable compromise?
To be sure, the conference agreement does include $8.6 billion in SNAP cuts over the next decade. Yet it stands in sharp contrast to the nearly $40 billion in SNAP cuts in the House-passed bill of September, which contained an array of draconian provisions and would have thrown 3.8 million people off SNAP in 2014, according to the Congressional Budget Office (CBO). The conference agreement includes none of the draconian House provisions — and it removes virtually no low-income households from SNAP.
I am indebted to ProPoliticoAg for listing the winners: groups that want to retain Country-of-Origin Labeling (COOL), the dairy manufacturers, organic producers (!), the U.S. catfish industry (USDA will inspect catfish, not FDA), and animal welfare groups (states can insist on standards),   The soybean and rice industries are also happy with the bill, as are groups that want more flexibility in food aid.
ProPoliticoAg's losers:  meat packers and processors who wanted to get rid of COOL, dairy farmers who preferred a different program, the poultry industry (which will have to abide by state cage-size requirements), anti-hunger advocates (the SNAP cuts).
ProPoliticoAg also read the fine print (as I promise to do once the bill passes):
$20 million per year for emergency relief to producers of livestock, honey bees and farm raised fish (p. 131-132)
A USDA report on the federal standard for the identity of honey (p. 802)
A citrus disease subcommittee to advise on citrus research (p. 568-569)
A requirement for USDA to recognize feral swine risks (p. 890)
$2.25 million per year through 2019 for wool research and promotion (p. 928)
A go-ahead to create a Christmas tree promotion board and 15-cent tax on fresh-cut trees (p. 805).