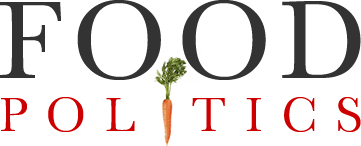 by Marion Nestle
Olivier de Schutter finishes tenure as UN Special Rapporteur on the Right to Food
Olivier de Schutter must be finishing up his six-year term as the United Nations Special Rapporteur on the Right to Food.
His final report to the U. N. Human Rights Council
Objectives such as supplying diverse, culturally-acceptable foods to communities, supporting smallholders, sustaining soil and water resources, and raising food security within particularly vulnerable areas, must not be crowded out by the one-dimensional quest to produce more food,
In a speech to the annual summit of the World Health Organisation (WHO), Reuters reports: 
Unhealthy diets are now a greater threat to global health than tobacco. Just as the world came together to regulate the risks of tobacco, a bold framework convention on adequate diets must now be agreed, he said.

De Schutter, who has held his post of special rapporteur on the right to food since 2008 and earlier headed the Paris-based International Federation of Human Rights, reports to the U.N. Human Rights Council in Geneva.

In 2005, a U.N. convention on tobacco control aimed at reducing deaths and health problems caused by the product went into force after long negotiations under the umbrella of the WHO.

In a report to the rights council in 2012, de Schutter said a similar accord on food should include taxing unhealthy products, regulating food high in saturated fats, salt and sugar, and "cracking down on junk food advertising."

That report also called for an overhaul on the system of farm subsidies "that make certain ingredients cheaper than others", and for support for local production "so that consumers have access to healthy, fresh and nutritious foods."
De Schutter  reports that public procurement can and should be used to 'buy justice' in food systems (also see press release):
"Public procurement represents a rare opportunity to support more nutritious diets and more sustainable food systems in one fell swoop," he said, as he released his final publication as UN Special Rapporteur on the right to food.

Recalling that OECD countries spend an average of 12% of GDP on public procurement, and developing countries only slightly less, he identified five principles for using public procurement to support the realization of the right to food:

Source preferentially from small-scale food producers and help them to access tenders
Guarantee living wages and fair prices along the food supply chain
Set specific requirements for adequate food diets
Source locally whenever possible and impose sustainability requirements on suppliers; and
Increase participation and accountability in the food system
De Schutter has done honorable work as Special Rapporteur and his role in this position will be missed.