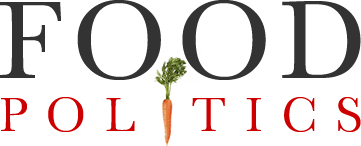 by Marion Nestle
GMO labels cost families $800/year: Guess who paid for the study?
Yesterday, Food Navigator reported that Cornell economists calculated that GMO labels would cost the average family of four a whopping $800 per year.
This seemed so improbable that I immediately wondered:  Who paid for it?
I clicked on the link to the study: Bingo!
The work on this report was supported financially by the Council for Biotechnology Information.
You won't find the list of companies and groups that support the Council on its website, but Source Watch fills the gap.
I am increasingly alarmed by the increasing extent of industry research sponsorship—it's become a huge issue in  studies of nutrition, diet, and health.
The influence of funding source on research outcomes is so predictable—many studies have now shown that industry-funded studies almost invariably produce results that favor the sponsor—that I'm batting nearly 100% on conflict-of-interest  checks, of which this GMO study is a particularly blatant example.
It's not that industry pays investigators to find the desired answers to questions.  It's more complicated than that.  It has to do with the way investigators ask and try to answer the research questions.  The industry favored biases get built into the study's assumptions and controls, often (I think) unconsciously.
This study, for example, is based on an elaborate set of assumptions leading to the $800 per family estimate.  Other assumptions might give different results.   The authors do not discuss the limitations of their estimates, nor are they required to in this type of report.
But I'm willing to hazard a guess that independently funded studies would come to considerably lower estimates.
Moral: if a study produces surprising results that favor an industry position, look hard to see who sponsored it.
Addition, May 24:
A reader sent in further information about the Council for Biotechnology Information:
Council for Biotechnology Information

1201 Maryland Avenue, SW., Suite 900, Washington, DC 20024 USA

Phone: 202-962-9200 web site: http://gmoanswers.com

(CBI: http://www.sourcewatch.org/index.php?title=Council_for_Biotechnology_Information.

http://www.powerbase.info/index.php/Council_for_Biotechnology_Information.

Experts: http://gmoanswers.com/experts. Founding members and supporting partners:

http://gmoanswers.com/about. There are also offices in Saskatoon (SK, Canada)

(http://whybiotech.ca)  and Mexico City (AgroBio Mexico: http://agrobiomexico.org.mx.)