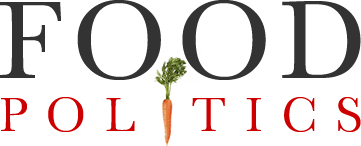 by Marion Nestle
Opening today: Fed Up! See it!
This ad was in last Sunday's New York Times.  It appears again today with blurbs added.
Full disclosure: I'm one of the many people interviewed for the film and appear in three 10-second clips.
Fed Up! is a stunningly hard-hitting exposé of the food industry's role in promoting unhealthy diets and childhood obesity.  It spares nothing in showing the devastating effects of obesity on kids (I found those parts painful to watch).
The film's main message is that the food industry, in collaboration with government, is responsible for creating a food environment that promotes poor health.
It is especially tough on food company marketing and industry-sponsored research.
It is also—I think, unfortunately—tough on Michelle Obama and her Let's Move! campaign.
Mrs. Obama is not the problem.  The food industry's marketing and co-opting practices are the problem.
We can debate whether it was wise or useful for Let's Move! to partner with the food industry, but the campaign has done much to bring issues of childhood obesity to public attention.
It's ironic that the accomplishments of Let's Move!—the White House garden, the Healthy Hunger-Free Act of 2010, the new school food nutrition standards, the new nutrition standards for WIC, and the new food label, for example—are at this very moment under fierce attack by food companies, their trade associations, and their friends in Congress.
With that said, the film is well worth seeing.  Don't miss it.  Get your friends to see it.  Let the debates begin.
How to see Fed Up!
As for the debate, please enjoy:
Additions