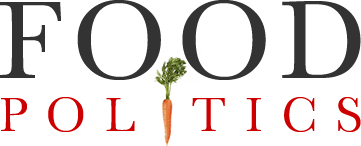 by Marion Nestle
Lobbying in action: pizza!
This just in from Politico Morning Agriculture:
At their recent Capitol Hill fly-in, members of the American Pizza Community — which included representatives from Domino's Pizza, Godfather's, Little Caesars, Papa John's and Pizza Hut — met with more than 70 congressional offices, according to a statement from the APC. Part of their ask was for lawmakers to back the Common Sense Nutrition Disclosure Act. The bill, which was introduced about a year ago by Reps. Cathy McMorris Rodgers (R-Wash.) and Loretta Sanchez (D-Calif.), would exempt grocery stores from the ACA menu labeling requirements and allow restaurants to disclose calorie counts online.
American Pizza Community?  Indeed, yes.
The American Pizza Community is a coalition of the nation's largest pizza companies, regional chains, local pizzerias, small franchise operators, supplier partners and other entities that make up the American pizza industry. This joint effort will highlight the importance of the pizza industry on American communities and promote policies that permit its continued success, including reasonable menu labeling standards, including small business owners in tax reform, commodity policies and employment and labor policies.
The APC knows how to work the system.  Meeting with 70 congressional offices takes some hefty organizational work.
This is, no doubt, how pizza came to be counted as a vegetable in the school lunch program.
Happy weekend!