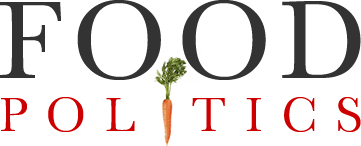 by Marion Nestle
Tonight is Thanksgiving Eve: Eat Pizza?
What with holiday travel and all, it's a slow news week, so I am indebted to the American Pizza Community for a press release informing me of an American holiday I had no idea existed: Thanksgiving Eve.
Apparently this holiday comes with its own tradition: pizza.
"Pizza," says the press release, "is tradition for millions of families on Thanksgiving Eve."
According to the American Pizza Community (APC), pizza is frequently chosen around celebratory occasions and large family gatherings because having a highly-customizable, oven-baked meal delivered to your door is an easy choice for big crowds…The night before Thanksgiving is one of the five busiest days of the year for pizza orders.  Some of the larger pizza companies estimate that they will sell more than one million pizzas on Thanksgiving Eve.
How come?  According to the APC, which is a trade and lobbying association "a coalition of the nation's large and small pizza companies, operators, franchisees, vendors, suppliers and other entities,"
Pizza offers wholesome-quality, customizable ingredients that are sure to satisfy a whole group.
Pizza is a flexible option: pick it up, dine in or have it delivered. Any way you slice it, it's hot, fresh and easy.
Pizza is a low-stress choice.  You don't have to pile everyone into a car to go out the night before a long day of travel.
Pizza is the perfect meal to bring people together and for many special celebratory occasions. It's a convenient and communal meal that is meant to be shared, and is a real crowd pleaser.
The American Pizza Community's "coalition was formed in 2010 to advocate for policies affecting pizza companies and operators including menu and labeling information, fair wages, work opportunity tax credit, background checks, tax policies and small business access to capital."
This is the group that succeeded in getting Congress to insist that pizza is counted as a vegetable in school lunch programs, and is doing all it can to make sure that pizza places do not have to put calorie labels on their menus.