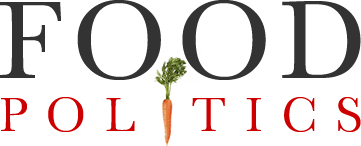 by Marion Nestle
NYC's Green Cart initiative achieves its goals, say Columbia U. researchers
Columbia University researchers have issued an evaluation of New York City's Green Cart Initiative, which puts street vendors selling fruits and vegetables into low-income areas.
The initiative has three purposes: to change the NYC food landscape, to expand economic opportunity for vendors, and to promote healthier eating for low-income residents.
The Green Carts Evaluation reports much success on all fronts.
Green carts are on the streets
80% of vendors say they are making a living.
71% of customers say they are eating more fruits and vegetables.
According to the press release, "Columbia SIPA researchers also find Green Carts are creating economically viable small business opportunities for immigrant entrepreneurs, recognize important role of philanthropy in promoting and supporting innovative public policy."
This last refers to the funder, the Laurie M. Tisch Illumination Fund.
The report also identifies what it calls "opportunities to enhance the program" (translation: things that are not working so well):
Green Carts are not distributed evenly throughout all high-need targeted areas.
Green Carts are located close to public housing in only one borough.
There is an inadequate tracking system for where Green Carts are or how many are on the streets.
Still, it looks like the program is working out according to plan.
This is a pleasant surprise.  I've been dubious about the program, mainly because every time I forget and buy berries at one of those carts, they turn out to be moldy.
Correction and apology, June 26: Thanks to Karen Karp for pointing out that the street vendors from whom I bought moldy berries could not possibly have been part of the Green Cart Initiative.  Green Carts, she points out, are
Distinguished by an iconic umbrella.
Only permitted in certain areas of the city–low-income, "food desert," high diet related disease.  In Manhattan, that means North of 97th street on the East side, and 110th street on the West.
I bought berries from carts South of 14th street.
Green cart vendors: I apologize.  Please accept and forgive.