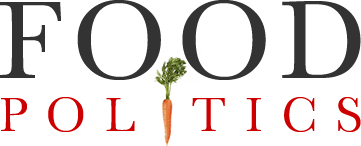 by Marion Nestle
University of California's new Global Food Initiative
I was fascinated to read yesterday that the President of the University of California (my alma mater), Janet Napolitano,  presented plans for a new 10-campus food initiative  to the California State Board of Food and Agriculture.  I loved it that she made the announcement with Alice Waters at Berkeley's Edible Schoolyard.
The UC Global Food Initiative, Napolitano said:
is a commitment to work collectively to put a greater emphasis on what UC can do as a public research university, in one of the most robust agricultural regions in the world, to take on one of the world's most pressing issues.  The food initiative will build on UC's tradition of innovative agricultural research to support farmers and ranchers. Future efforts will build on work already begun by UC's 10 campuses and its Division of Agriculture and Natural Resources.
Here's what she says the UC Global Food Initiative will do:
Use collective purchasing power and dining practices to encourage sustainable farming practices, healthy eating, and zero food waste.
Put food pantries and farmers markets on all 10 campuses.
Partner with K-12 school districts to enhance leveraging procurement.
Integrate food issues into more undergraduate and graduate courses.
Develop catalogues of food-related courses.
Put demonstration gardens on each campus for experiential learning.
Mine data on California agriculture and response to climate change.
Allow small growers to serve as suppliers for UC campuses.
What fun!  Can't wait to see how it works.
Good work Alice Waters!
I hope other universities—including mine—start copying.
Here's the info:
Go Bears!