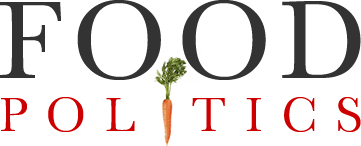 by Marion Nestle
The infamous "revolving door:" two recent examples
The Center for Responsive Politics' Open Secrets website is the go-to source for information about undue corporate influence in Washington.
Among other juicy tidbits, it has some things to say about the "revolving door," the trading of jobs between government and the industries it regulates.
Although the influence powerhouses that line Washington's K Street are just a few miles from the U.S. Capitol building, the most direct path between the two doesn't necessarily involve public transportation. Instead, it's through a door—a revolving door that shuffles former federal employees into jobs as lobbyists, consultants and strategists just as the door pulls former hired guns into government careers.
Here are two recent examples:
According to the Hagstrom Report, Anne Cannon MacMillan, a deputy chief of staff to Agriculture Secretary Tom Vilsack, left the USDA to become the director of government relations for Roll Global, the California company founded by Stewart and Lynda  Resnick, the owners of Pom Wonderful, Fiji water, and other brilliantly marketed food and beverage products.
Robert Post, left his post as acting director  of the USDA's Center for Nutrition Policy and Promotion, the agency that brings us the MyPlate food guide, to join the Chobani yogurt company, as its senior director for nutrition and regulatory affairs.
Former federal officials come to industry with deep knowledge of how the system works and how to beat it.   They also bring long lists of key contacts who know how to make Washington work in the new employer's favor.
Oh yes.  They also get paid better.
Ethical?  Revolving door appointments follow the letter of the ethics law.  We can argue about whether they follow its spirit.