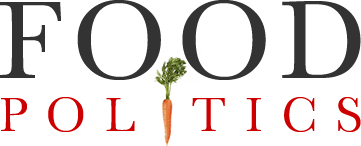 by Marion Nestle
What do you think? Is the "Revolving Door" useful or conflicted?
My post about the "Revolving Door" elicited a thoughtful response from Jerry Hagstrom, Founder and Executive Editor of the immensely useful Hagstrom Report, to which I subscribe.
He writes: "You seem critical of the "revolving door" but I would ask the following:

What would you have these people do for employment when they leave government? If they are political appointees,  they can't stay forever.
Shouldn't they use their knowledge? Should they be expected to move into an entirely different field? Wouldn't it be a shame for the professional world of food and agriculture to lose their expertise?
What about academics who take government jobs and then go back to academia? Don't they learn how to get research grants? But their knowledge of how government works is considered valuable to universities and to students.
Do you see any problem with someone being in government and then going to work for a nongovernmental organization or a foundation or coming from an NGO or a foundation into government? That happens too and those institutions have agendas.

As a reporter I view all these people with a combination of faith and skepticism whether they are in government or out.
Good questions, with no easy answers.
Open Secrets provides many examples of government officials who become lobbyists for the industries they used to regulate.
Conflicts of interest are likely to be even greater for those who revolve the other way—from industry to government–and especially when former industry executives move to high-level positions in regulatory agencies.
If nothing else, I see the revolving door as giving the appearance of conflict of interest.
Readers: What do you think?  How would you respond to Jerry Hagstrom's questions?