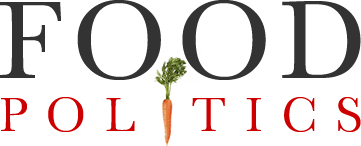 by Marion Nestle
Weekend reading: Brian Wansink's Slim by Design
Brian Wansink.  Slim by Design: Mindless Eating Solutions for Everyday Life.  William Morrow, 2014.
In his new book, Wansink, the author of Mindless Eating (Amazon's #1 Best Seller in Eating Disorders, Self-Help) and guru of Cornell's Food and Brand Lab, promotes the idea that small changes in the food environment will encourage healthier eating.
Wansink, of course, is the behavioral economist who conducts clever and revealing experiments proving this point: the bottomless soup bowl (people eat and eat and eat), the Super Bowl study (students eat more from larger containers), the organic aura hypothesis (people perceive foods with health claims as having fewer calories), the stale popcorn study (if it's there, people will eat it).
His studies are fun and I especially like his work because it shows how much environmental factors influence food choice.  If so, we need policies to change the environment to make the healthy choice the easy choice.
Wansink, however, usually interprets his work as suggesting what you—as an individual—can do to counter the environmental forces: pay attention, use smaller plates, snack-proof your house.
He does that in this book too, but also has suggestions for actions that restaurants, supermarkets, and food makers can take to sell healthier foods and still make money.   If you are a fast-food restaurant, for example, you can:
Make it motivating

Start a Healthy Habits loyalty card—five punches and the sixth healthy item is free.
Give 5 percent off the healthier combo version: diet versus regular, baked versus fried.
He says:
Give away a sixth meal?  Give a 5 percent discount?  On a $5 meal that's a 25-cent loss.  Think of it instead as a $4.75 gain, because diners could have easily otherwise gone somewhere else.  And it's a $9.50 gain if they brought a friend.
Could this start a movement?
In an e-mail, Wansink writes:
My goal is for this book to ignite a Slim by Design Movement that transforms restaurants, grocery stores, workplaces, schools into healthier places that guide us to make smarter, healthier choices. The book tells people exactly what they can ask their favorite restaurant or grocery store to do, and the web site allows them to complete abbreviated scorecards and post them to Facebook and Twitter to show people there are simple, scalable, solutions that can make all of us Slim by Design.
Policy change, anyone?