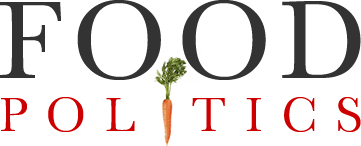 by Marion Nestle
Food Policy Action rates Congress on food issues
Food Policy Action announced the release of its second annual National Food Policy Scorecard last week, ranking members of the House and Senate on their votes on key food-related issues.
Food Policy Action is unique among food advocacy organizations in its explicit use of the political process.  Its goal is to
promote policies that support healthy diets, reduce hunger at home and abroad, improve food access and affordability, uphold the rights and dignity of food and farm workers, increase transparency, improve public health, reduce the risk of food-borne illness, support local and regional food systems, protect and maintain sustainable fisheries, treat farm animals humanely and reduce the environmental impact of farming and food production.
How?  By holding legislators accountable for their foods on food and farming issues.  Hence: The Food Policy Scorecard.
I discussed the previous scorecard in December 2013.
On this round, Food Policy Action awarded scores of 100 to 71 members of Congress – 54 in the House of Representatives, 17 in the Senate.
It awarded scores of zero to 35 members.
The scores are given for votes on bills related to key food issues:
Hunger
Food aid
Food labeling
Farm subsidies
Sustainable farming
The website makes it easy to track your legislators's votes.
I looked at Senators from New York.
Kirsten Gillbrand scores 85 (she lost points by voting against reducing federal insurance subsidies for rich farmers and against protecting states' rights to require GMO labels)
Charles Schumer scores 100
This is a valuable tool for anyone who cares how politics works in America.  Let's hope it encourages citizens to hold their representatives accountable and legislators to think twice before voting against consumer-friendly food and farming bills.