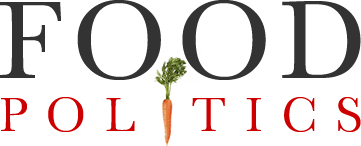 by Marion Nestle
What Dan Glickman is doing these days: bipartisanship
Dan Glickman, former USDA Secretary (1995-2001) has been turning up in my mailbox newsletters a lot lately.  Here's a small collection.
On making the connection between agriculture and health
The food, agriculture, health, hunger and nutrition sectors need to create new ways of working together that harness their shared commitment to improving health through food and nutrition. And we need government and industry to work together in a way that transcends typical political and business interests….The food industry can do more to reinforce healthy diets through marketing, incentives and other strategies, including product formulation, placement, packaging, and portion sizes. And government needs to amplify its existing efforts to ensure consistent and affirming nutrition and health messages for consumers.
On the need for bipartisan approaches
While a healthy, civil debate among those with differing viewpoints is an essential component of our democracy, the current partisan tone in government is impeding progress. Through the Democracy Project and events like Bridge-Builder Breakfasts, political summits and timely policy discussions, BPC [Bipartisan Policy Center ] is fostering an ongoing conversation about how to overcome political divides and help make our government work better.
He is a co-chair of AGree–Transforming Food and Agriculture
AGree seeks to drive positive change in the food and agriculture system by connecting and challenging leaders from diverse communities to catalyze action and elevate food and agriculture as a national priority.  [Here is what AGree agrees on]
And here he is on the implications of the midterm elections' for the "rural-urban divide:" 
Notwithstanding the very strong farm and agricultural economy the past few years, the Democratic Party and its leadership are having a great deal of trouble connecting with farmers and rural citizens and small-town America…a sustained effort at the highest political level by Democrats to connect with rural issues and concerns is necessary if they want to broaden their popularity and build bigger and more successful electoral coalitions and succeed in this country's many rural congressional districts.

…It is no secret that casualties in Iraq and Afghanistan were borne by a disproportionate number of young men and women from these areas. The economic recession has also hit rural America very hard and many towns have not seen much impact on their lives from the rebounding American economy.

The White House and Democratic Party gurus need to recognize that they are failing to connect with rural America….The future of American leadership on nutrition, farming and hunger is in jeopardy without positive action to rebuild and maintain these bipartisan coalitions.
In his post USDA years, Glickman has become a strong spokesman for bipartisanship and bipartisan decisions about how to link agricultural policy to health policy.
Wouldn't it be nice if he succeeds?