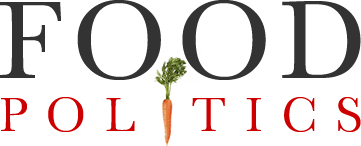 by Marion Nestle
What ever happened to menu labels?
It's been 4 years since President Obama signed the Affordable Care Act authorizing menu labels to go national.
In 2011, the FDA proposed rules for public comment.  It proposed final rules in 2013:
But the FDA has never released the final rules.
How come?
The rumors I'm hearing say they are being held up by the White House Office of Management and Budget.
I first wrote about the delay in April 2013.
I complained about the delay again four months ago, when rumors suggested that it was due to pressures from owners of pizza chains and movie theaters.
I quoted Politico Pro Agriculture on the White House-induced delay:
It was three months ago today that the White House first received FDA's final rules for calorie labels on menus and vending machines, and by the Office of Management and budget's own rules, that means time is up. Interagency review at OMB is supposed to take no more than 90 days before the final release of a measure, though that timeframe is often extended with little explanation on more controversial initiatives. While OMB is always mum on its schedule for rule reviews and releases, the end of the standard review period is sometimes a hint that something will be coming, if not today — the day before a long weekend — then soon. In the meantime, brush up on the issue here: http://politico.pro/1mKNcFr and here: http://politico.pro/1lzZLDe.
Come on White House OMB: the election is over.  Let the FDA release the rules, please.
This is about public education, which is supposed to be bipartisan.