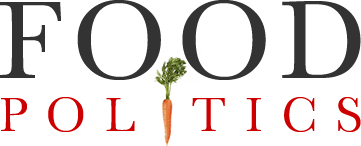 by Marion Nestle
Yesterday's elections: plenty of good news for the food movement
This was a big election for the food movement:
Soda taxes in Berkeley and San Francisco
GMO initiatives in Colorado, Oregon, and Maui
The reelection of particularly fierce opponents of food stamps
Minimum wage laws
Soda taxes
Hats off to Helena Bottemiller Evich of Politico ProAg who stayed up half the night to file her story at 3:00 a.m.  As usual, she cuts right to the chase.  Here's her comment on the Berkeley win:
Voters approved Measure D, a penny-per-ounce tax, by a three-to-one margin after a bitter campaign battle, with the beverage industry spending more than $2.1 million to oppose the initiative. The pro-tax campaign was bolstered by more than $650,000 from former New York City Mayor Michael Bloomberg.
The vote for the tax in Berkeley was a whopping 75%–a clear, unambiguous win.
The vote in San Francisco passed the tax by a majority—54.5%—but a 2/3 vote was required because the measure specified where the funds would to.
And here's some commentary
Dana Woldow, who has covered these elections closely on the website Beyond Chron, has this to say about the Berkeley win.
Xavier Morales, executive director of the Latino Coalition for a Healthy California, told me that entities across the state have just been waiting to hear what happens in Berkeley and SF to advance their own local plans for a tax, and that there are ongoing discussions at the state level regarding the feasibility of a soda tax bill to help reduce diabetes, heart disease and stroke. "Other cities in the Pacific Northwest have also been watching both San Francisco and Berkeley with great interest," he said.
Sara Soka, campaign manager for Berkeley vs Big Soda (the Yes on D campaign)says:
What happens in Berkeley doesn't stay in Berkeley…Berkeley's public school system was one of the first to voluntarily desegregate in 1968. It's led in public school food policy, smoke-free areas in restaurants and bars, curb cuts for wheelchairs.  All these positive changes are now mainstream.
Michael Jacobson, director of Center for Science in the Public Interest, a long-time supporter of soda taxes, says:
Berkeley voters have shown it can be done.  A community's health can trump Big Soda's insatiable appetite for profit…This is a historic victory for public health and a historic defeat for the increasingly disreputable soda industry. Coca-Cola, PepsiCo, and the American Beverage Association can no longer count on spending their way to victory.
San Francisco's Choose Health SF
This isn't about one soda tax. This is about a national movement that was kicked off tonight, and we are proud to have raised the conversation about the health impacts of soda and sugary beverages, and exposed the beverage industry's deceptive tactics.
GMO labeling and no-plant initiatives
At a cost estimated at more than $60 million, the GMO industry and its food industry friends managed to defeat labeling measures in Oregon and Colorado.
In Maui, voters passed an initiative to block cultivation of GMO materials on Maui, Molokai and Lanai until cleared by environmental and safety studies.
The Information Technology & Innovation Foundation released this statement quoting Val Giddings of the Biotechnology Industry Organization:
The effort was a misleading, fear-based campaign to put a "scarlet letter" on genetically modified foods. "We commend the citizens of Colorado for protecting the environmental benefits, food abundance and lower prices that have been delivered by seeds and crops improved through biotechnology."
Reelection campaigns
These have to do with representatives whose positions on food stamps are especially awful.   The position of one, Florida Republican Steve Southerland, was so dreadful that he was singled out by Food Policy Action for targeting.
During discussions of the farm bill, Southerland led attempts to cut food stamps and force beneficiaries to work.  Food Policy Action's Tom Colicchio and Ken Cook issued a statement:
This is a big win for food advocates and Florida families. Congressman Southerland has repeatedly made policy choices that are harmful to families and small farmers. Today, we proved that voters care about food issues, and they will hold their elected officials accountable on Election Day.
 New York City Coalition Against Hunger notes these election results:
Steve Southerland (Florida 2), arguably the greatest Congressional opponent of SNAP/Food Stamps, lost his re-election bid.
PA Governor Tom Corbett who – soon after becoming Governor – wanted to slash Food Stamps benefits – lost big.
In contrast, Thad Cochran, who is perhaps the GOP's strongest supporter of SNAP/Food Stamps, won re-election to the Senate by a wide margin in Mississippi.
It quotes executive director Joel Berg: "Cutting SNAP and other safety net programs is bad policy, bad morals, and, as last night's results show, bad politics."
Minimum Wage Laws
Voters in four red states (SD, AR, AK, NE) passed raises in the minimum wage by wide margins, even though they defeated Democratic candidates.
My comments on all of this
To the question, will soda taxes reduce consumption, I would answer: the soda industry thinks so to the tune of $11 million in San Francisco and Berkeley.
To the question, will GMO labeling hurt the GMO and food industries, I would answer: the industries think so to the tune of about $100 million so far.
These expenditures—and the bullying that go with them—are sufficient to explain the voter turnout.
If you haven't seen Nightline's exposé of the soda industry's tactics, now might be a good time to take a look.
And celebrate!