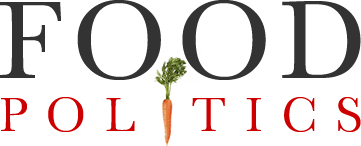 by Marion Nestle
Souvenirs from the Dietitians' annual meeting
The annual meeting of the Academy for Nutrition and Dietetics, formerly the American Dietetic Association, always provides an incredible exhibit of products from food companies—the latest in dietetic junk food and food company nutritional spin.
Knowing how much I enjoy these things, and that I am working on a book about food advocates and the soft drink industry (Oxford University Press, September 2015), several of my colleagues brought back souvenirs.
Functional foods (with "healthy" ingredients above and beyond what occurs naturally)
For Keurig brewing machines, a container of Fibersol Cran-Raspberry flavored instant tea mix, with soluble fiber added (is tea really a significant source of soluble fiber?).
MealEnders.com's chocolate mint signaling lozenges, "an antidote to overeating."  If you feel that you are overeating, suck on one: "take control, curb appetite, get results" (if only).
A 6-ounce can of Kao Nutrition's black coffee with 270 mg polyphenol (coffee chlorogenic acid), naturally present because the coffee was not brewed at high temperature (well, coffee is a plant extract, after all).
Swag
A pen with a pull-out section that gives the potassium content of commonly consumed foods (these come in other versions too, apparently).
Soda company propaganda
A brochure from PepsiCo's Nutrition Team, HydrateNow.  Gatorade, it points out, is 93% water (and the other 7%, pray tell?.
A pamphlet from PepsiCo on Calorie Balance: "many things influence your everyday nutrition.  For maintaining a healthy weight, the most important factors are how many calories you eat and the total calories you use up"  (but if those calories happen to be empty?).
A PepsiCo brochure on Diet Beverages for People with Diabetes (but it still is advertising Pepsi).
A list of PepsiCo drinks that meet the USDA's nutrition standards for schools (a long list, alas).
A scientific paper, "What is causing the worldwide rise in body weight," sponsored by Coca-Cola (Coke's answer: lack of physical activity, of course.)
A poster from the American College of Cardiology, "Striking an energy balance," sponsored in part by Coca-Cola.   It says: "Drink water or no- or low-calorie beverages" (it does not say you should "Drink less soda").
A pamphlet on National School Beverage Guidelines sponsored by Coca-Cola, PepsiCo, Dr Pepper Snapple, and the American Beverage Association:  "The beverage industry committed to bold change and then made it happen.  Working with our school partners, we transformed the beverages available to students" (yes, but it doesn't explain that public pressure forced them to do this).
A Coca-Cola pamphlet, Balancing Act.  This gives five easy ways to burn 100 calories: playing soccer 13 minutes, briskly walking 15 minutes, climbing stairs 10 minutes, jumping rope 9 minutes, gardening 19 minutes (based on a 150 lb person).  Funny, it doesn't mention that one 12-ounce Coke is 140 calories.
A FamilyDoctor.org pamphlet, Healthy Eating for Kids, from the American Academy of Family Physicians and the American Dietetic Association, distributed with a grant from Coca-Cola.  It lists healthy eating habits—family meals, be active, limit screen time, stay positive, etc (but—surprise—does not suggest that your kid might be healthier not drinking sugar-sweetened beverages).
Treasures, all.  I really love this stuff.  Thanks.